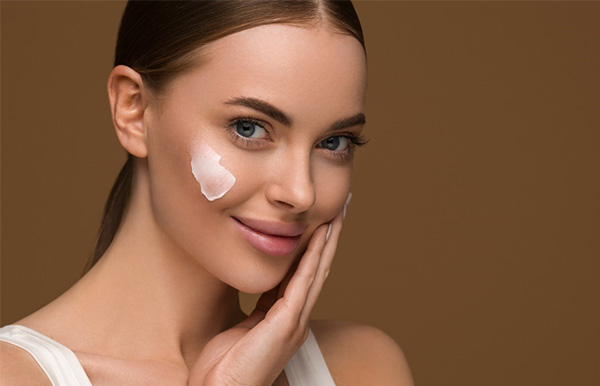 Natural moisturizer
Skin needs to be moisturized every night to stay soft and fresh. When the skin is properly moisturized, it will be no longer dry, reduces wrinkles and prevent signs of aging. One of the important criteria in choosing an effective skin moisturizer is to choose the right product with high moisturizing ability, good absorptivity and completely natural ingredients, safe for long-term use.
Criteria for choosing effective moisturizing products
When it comes to skin moisturizing ingredients, it is impossible not to mention ingredients with high moisturizing properties from nourishing oils such as Jojoba oil, coconut oil, olive oil, avocado oil, argan oil, castor oil, grape seed oil.
The ratio between linoleic acid and oleic acid in the composition of each oil will determine the moisturizing ability, the degree of penetration, the effect and the degree of suitability for each skin type.
In addition to nourishing oils, natural Vitamin E is also considered an ingredient with high moisturizing ability for the epidermis, making the skin more moist and smooth, but also against the harmful effects of the sun. Thus, it can be seen that Jojoba oil has a similar texture to natural oils on the skin, neutral pH in the form of a mild liquid wax with high moisturizing ability, faster absorption no damage caused clogged pores, balance oil secretion on the skin.
Therefore, Jojoba oil is considered the optimal choice for both dry and normal skin and combination skin.
Vitamin E is also considered the strongest and most typical vitamin in terms of antioxidant capacity in the group of oil-based vitamins, helping to regenerate new and younger skin, improve wrinkles and slow down the aging process.
There are two types of vitamin E on the market. They are natural vitamin E and synthetic vitamin E. Natural vitamin E is 2-3 times more effective than synthetic vitamin E, making it safer for long-term use on the skin.
NNO – Moisturizing solution with natural Jojoba oil and Vitamin E
NNO with the perfect combination of natural vitamin E and Jojoba oil in 1 moisturizing step so that these two nutrients increase the synergistic effect, helping to maximize the moisturizing, regenerating and protective effects of the skin.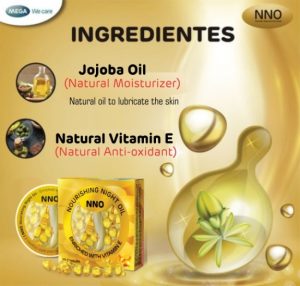 As you all know, in market there are many products containing vitamin E and Jojoba oil, but you need to choose products that have proven to be of clear origin and effective for the skin. One of the products that are trusted today is the NNO moisturizing oil of Mega We Care Company.
NNO has been tested for quality, effectiveness and safety by the French Spin Control Research Institute. The results show that NNO helps increase moisture by 220% after 6 hours, and at the same time increases skin elasticity, firmness and softness from 95% to 100% after only 2 weeks of use.
In particular, NNO is produced in the form of a soft capsule to help protect the active ingredient optimally, accurately divide the dose, 1 applicap for 1 time use, safe and convenient when moisturizing the skin for a long time.