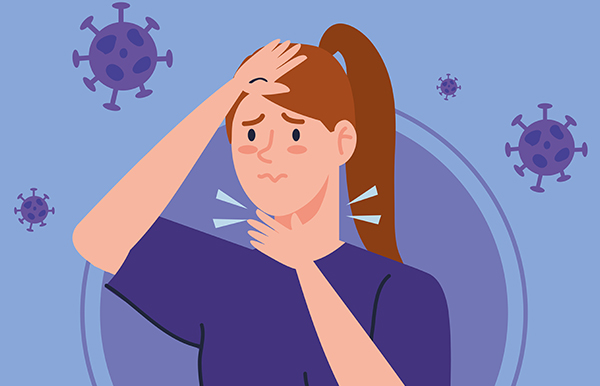 As the year comes to an end, we release a sigh. The disease started towards the end of the previous year is yet to be cured completely. In the last few decades the human kind has not seen anything as devastating as COVID-19. Additionally, the ever increasing cases and fatalities have aroused fear within people.
Some of them even get cautious when they get a sore throat, which is completely natural. However, you do not have to panic as there are other reasons for a sore throat and it is common in humans. COVID-19 is caused by SARS-CoV-2, commonly known as coronavirus. COVID-19 also has other common symptoms, such as fatigue, fever, cough, shortness of breath, etc.
Different Symptoms of Sore Throat
There are different symptoms of a sore throat and it can vary according to the cause.
The signs and symptoms that can include-
1. Itchy sensation or pain in the throat
2. Difficulty in swallowing
3. Talking and swallowing can worsen the pain
4. Swollen, sore glands in your jaw or neck
5. Red tonsils, swollen
6. White pus or patches on your tonsils
7. A muffle or hoarse voice tone
These are the times when you start panicking, thinking it might be COVID-19. I won't chalk out the possibilities that it is not, but I can provide you with solutions.
Treating Sore Throat Immediately
Mega We care is a reputed company, who supplies the best quality medicines for general use, as well as medical use. They two have very effective products that will help you instantly to treat sore throat.
1. Eugica Mouth Spray
A sore throat or pharyngitis is a very common respiratory disease. That often affects us, but once kept for a long-term period can become dangerous. Therefore, you should treat it immediately. Mega we care's eugica mouth spray deals with treating sore throat in an instant delivering comfort and soothing the pain and/or irritation.
2. Eugica COFF Lozenges
The Eugica COFF Lozenges being herbal are enriched in 5 effective natural products such as- ajwain, ginger, eucalyptol, mint, and cinnamon. These Lozenges definitely frees you from sore throat and gives you a refreshing breath. Keeping couple of these in pocket can be a quick resolve to bad breath and/or sore throat.
In case you notice that is has been over 6-8 days and your sore throat is not treated yet, and you have other symptoms, it is best to visit a doctor.
Symptoms of COVID-19 vs Cold vs Flu
How can you be assured on the reasons of a sore throat? The only thing that is going on in the back of our mind is 'It is COVID-19'.
These symptoms are will help you distinguish-
1. COVID-19 has symptoms that develop gradually, and the most reported symptoms are fever, fatigue, and cough.
2. Common cold also has gradual symptoms however they are sore throat and a running or blocked nose. Fever as an after effect can be rare.
Symptoms of flu comes suddenly and shares many symptoms with COVID-19. Common flu symptoms such as headache, chills, body aches, etc. are less common for COVID-19.