Sale!
NAT C Yummy Gummyz
Healthy and Tasty Yummy Gummyz of Vitamin C!
Nat C Yummy Gummyz is made to keep the immune system work at its best every day. Kids will love these tasty gummyz, full of Vitamin C. Vitamin C has immense importance in health matters and with good reason. It boosts immunity, improves overall health performance and prevents general illnesses; especially common cold.
Vitamin C gummyz helps support immunity in children
Nat C Yummy Gummyz, is a Vitamin C in gummy form for kids to help support immunity. Nat C Yummy Gummyz is beneficial especially to prevent children from catching common cold. It is also essential for collagen production which is important for healthy connective tissue (including skin, tendons, and teeth). It tastes unbelievably fantastic, bursting with delicious orange flavor
Pack Size: 2 x 25's
Out of stock
Composition
Each gummy of NAT C Yummy Gummyz contains:
With delicious orange flavor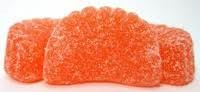 Dose and Administration
Recommended dosage: 1 to 2  gummyz three times a day
Recommended age group : From 3 years to 12 years
Uses
VITAMIN C SUPPLEMENT TO HELP SUPPORT IMMUNITY IN KIDS
It is recommended in
Children having weak immunity
To reduce incidences of allergy and cold
Children having bleeding gum and survey
Help to reduces the incidence & improve outcome of Pneumonia, Malaria and Diarrhea in children
Helps to enhance the wound heal & maintains healthy blood vessels in kids
Features
NAT C  Yummy gummyz : Natural immunity booster in children
NAT C gummyz are available with Kid-friendly dosage form.
NAT C gummyz are very safe with no artificial additives and preservatives.
It has a yum taste and the flavour is 100% natural
It's a chewable gummy supplement with great taste of orange